Which vinyl cutter should I buy?
Have you ever been frustrated when you couldn't find your favorite patterns when shopping for clothes, car stickers, mugs and window paper cuts? If only I could make my own designs!
Reading this article, you must know that an excellent vinyl cutter machine can easily create nice handicrafts, T-shirts, logos, stickers and helping you earn a considerable income.

Which vinyl cutter should I buy?
Picking the best vinyl cutter can be a bit of a daunting task. As a beginner, it's enough for you to spend three whole days studying the differences in size, precision, and function among many products.
In order to help you get rid of collecting data, we have selected several machines for comparison according to the needs of different people.

I am a DIY beginner

DIY enthusiasts mainly make personalized stickers and stick them on clothes, cups, and mobile phones.

A desktop vinyl cutter is suitable for small handmade jobs. If you want to create clothes, gift boxes, car stickers and other big jobs, you will need a stand-typed machine with a larger cutting area.

Larger stand vinyl cutters from US Cutter's MH series and VEVOR SK-L series are easy to use and intuitive with the complete software features that allow you to save complex design works. Soul painter also shines brilliantly, making it quick to get started.
But in comparison, the VEVOR SK-L series can better meet the needs of entry-level DIY lovers, and offers extraordinary value for the price.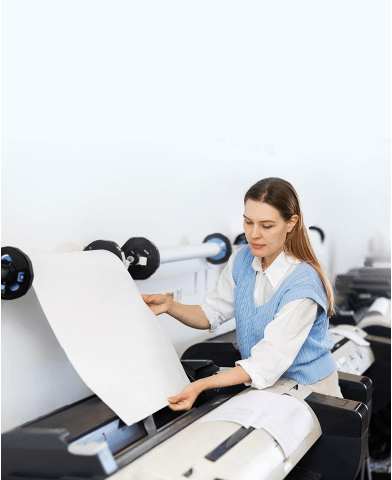 For less than $300, you can buy a basic sticker vinyl cutter to complete larger works that usually costs $300-$600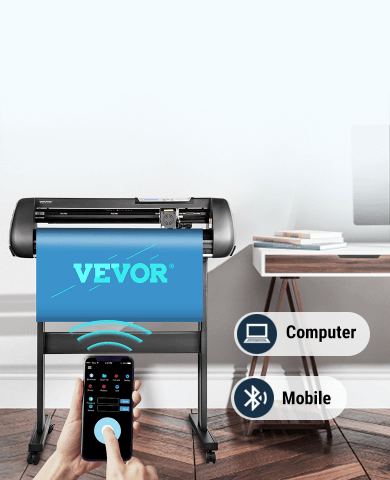 This machine comes with a Bluetooth connection function, which enables users to easily complete cutting while lying on the sofa with their mobile phones or pads.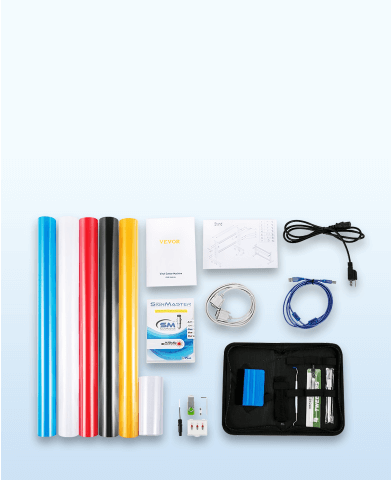 Offers a full set of accessories. No need to purchase tweezers and vinyls separately.

I'm an entrepreneur

The vinyl cutter for small businesses is an indispensable commercial machine. For a coffee shop owner, vinyl engraving machines can avoid quarrels with advertising agencies, make the desired logo at a low cost, and improve store recognition.
The mainstream commercial vinyl plotter brands are US Cutter and VEVOR.
The basic vinyl cutters from the two brands have a lot in common. However, USCutter MH series doesn't have large memory, so it will sometimes freeze on long or complex jobs. Besides, the lower cutting pressure supports a relatively limited paper thickness and it's very noisy reviewed by users.
In contrast, the VEVOR series became the most cost-effective choice in small-scale production.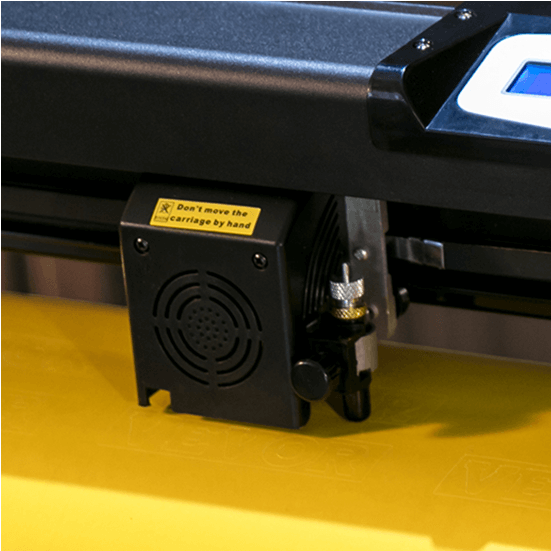 •
VEVOR's SK-L comes with a steel roller shaft that can provide a strong grip, and the paper will not deviate even when cutting up to 10 meters. No need for frequent paper adjustment.
•
Multi-level cutting pressure and speed can be adjusted to match various cutting materials.
•
Large memory. 16MB enables large and complex files to be read, making production smoother and faster.
•
0.004in blade tip for high-precision cutting. Avoid the difficulty of removing excess parts of the paper.
•
The aluminum body is sturdy and durable, protecting it from inevitable collisions at work.
Similar features, but the VEVOR SK-L costs less. A smart user must know what kind of vinyl plotter you should have.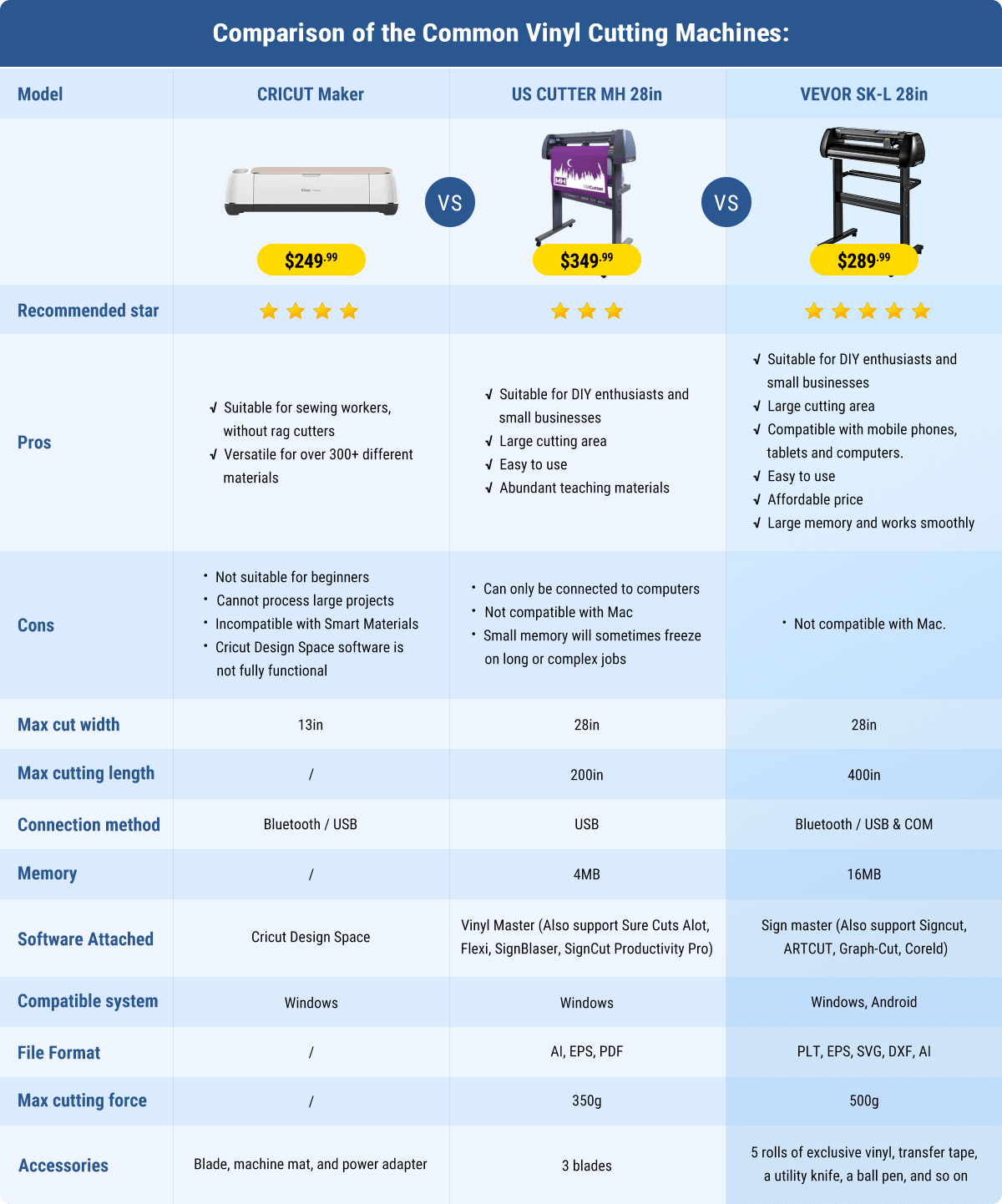 VEVOR is your best choice
Whether for DIY enthusiasts or small business entrepreneurs, whether at home or in the workplace, VEVOR is the best vinyl cutter machine for you. It integrates Bluetooth, making it highly adaptable to various kinds of materials, accurate and fast cutting performance, and provides three sizes of cutters for you to choose. Meet the production needs of various fields at a lower price. "Best value"in the field of vinyl cutters for small business.
VEVOR, as a leading global tool and equipment retail expert, has many years of experience in vinyl cutting plotters and has won the trust of many consumers. You can rest assured when choosing our products. So the answer to the question "which vinyl plotter should I choose?" it's obvious now. It must be the VEVOR. What are you waiting for? Come, and find VEVOR.com now!