JXSZPJGY2152LZWW7V1
VEVOR Beer Kegerator, Dual Tap Draft Beer Dispenser, Full Size Keg Refrigerator With Shelves, CO2 Cylinder, Drip Tray & Rail, 32°F- 50°F Temperature Control, Holds 1/6, 1/4, 1/2 Barrels, Black
About this item
Taste the Perfect Beer: Are you ready to enjoy a refreshing beer? Our beer kegerator keeps your beer fresh at a low temperature, while efficiently chilling it. With its auto-defrosting design, it always maintains the best performance. The extended 9.8 ft long beer hose ensures proper foam, resulting in the best flavors and taste.
Spacious and Reliable: We offer an external bracket for the CO₂ tank, which helps save space inside the kegerator. The kegerator itself is spacious enough to accommodate beer barrels of varying sizes, including US-standard full-size, quarter, and sixth barrels. Plus, there are two additional shelves provided, which allow you to use the kegerator as a refrigerator as well.
Set the Right Temperature: The keg refrigerator has a knob that lets you easily adjust the inner temperature from 32 to 50℉. This allows you to chill your beer to your preferred temperature. Plus, if there is a power outage, the refrigerator will automatically restore the temperature you set once power is restored.
Designed with You in Mind: Our kegerator fridge comes with four wheels, making it easy to move around. You can lock the two front wheels to prevent it from sliding. The drip tray catches spills and keeps things clean. Plus, the stainless steel guard rail provides extra safety.
Everything You Deserve: Installing our beer tap kegerator is a breeze. It comes with all the necessary accessories, including a dual tap beer tower, a beer line, a CO₂ tank (empty), a tank bracket, and an installation kit. We also provide hose clamps and gaskets to prevent leaks. So, there's no need to worry about a thing!
Frequently Bought Together
People Who Bought This Item Also Bought
Pour a Cold, Tasty Glass of Beer Easily with VEVOR Kegerator
Are you a beer person? If so, then you will love this! Our kegerator keeps beer fresh and at the ideal temperature, while the 9.8 ft beer line ensures perfect carbonation. It also doubles as a refrigerator for your favorite drinks, making it perfect for home, bar, or barbecue use.
The beer kegerator features a premium compressor for quick cooling and long-lasting use. Its auto-defrosting design ensures efficient operation and easy cleaning. Plus, the knob allows you to adjust the dispenser's temperature between 32℉ and 50℉.
Our kegerator is a versatile appliance that not only keeps beer fresh, but also doubles as a refrigerator with a removable shelf. The CO2 tank can be placed at the back to make room for larger kegs. It can hold one full-size 15.5 gal keg, one 7.75 gal quarter barrel, or two 5.17 gal sixth barrels.
Installing this keg refrigerator is a breeze with the included user manual and complimentary installation tools. You'll also receive a 5-pound CO2 tank (empty) with your kegerator. For added convenience, we provide hose clamps and gaskets to prevent any leakage.
Enjoy the perfect draft beer experience at home with our keg dispenser. It comes with a removable non-slip drip tray to minimize spills and mess, an easy-to-install chrome rail, and four universal casters for easy mobility. Get ready to entertain your friends with delicious, fresh draft beer!
Specification
Item Model Number

BF152-2
Power

87 W
Voltage

AC115V/60Hz
Noise

≤45dB
Temperature Range

32-50℉/0-10℃
Refrigerator Inner Capacity

40 Gal / 152 L
Beer Tower Material

Stainless Steel
Net. Weight

94.8 lbs / 43 kg
Certification

CSA, DOE, DOT+TC (carbon dioxide gas tank), energy efficiency certification
Questions and Answers
1 Questions
What size / capacity is the gas cylinder included with this item?
The capacity is 5lbs, please refer to the picture in the link below for the size, where the unit of value is mm. https://we.tl/t-ukNUttkTrC
Customer Reviews
Ratings by Features
See More

See Less
1 Review(s)
Brandon
Guywhobuys
Really great budget kegerator. Got it all installed and put together in a matter of a few hours. No leaks, good quality fittings, and plenty of replacement washers and o rings. Instructions were fine and plenty of videos online from other folks. Just do a little research on Co2 fills and line balancing ahead of time to save some headaches.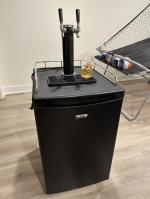 People Who Viewed This Item Also Viewed