How to Pressure Wash A House?
As everyone knows, cleaning is the biggest headache around bashes at the end of the year. Now, having a high-pressure washer will help you effortlessly clean up dust and guarantee fun around Christmas and other special occasions. Pressure washing can be done every few years as foundation maintenance. Meanwhile, it is necessary to clean the house's exterior before painting. So, how do you get a quick clean with a high-pressure washer? The following will help you.
Tip 1:
Work in good weather.
Strong sunlight will lead to foam drying quickly and leaving stains if it is not appropriately wiped.
Also, water cooling or steaming too fast can reduce part of the building material's life. Therefore, we recommend choosing a day when the temperature is suitable and fresh and with no wind in spring or autumn.
Tip 2:
Choose the right pressure washer and auxiliary tools.
To guarantee an optimal cleaning effect, use an appropriate detergent before a thorough pressure wash. Conventional auxiliary tools are goggles, gloves, a cleaning brush, and a cleaning agent. All these can be purchased at any mall.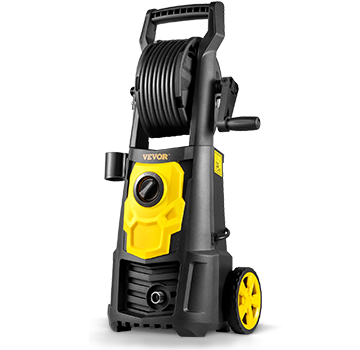 Generally speaking, professionals charge for pressure washing at 10 to 80 cents per square foot. Furthermore, renting a pressure washer and auxiliary tools costs extra. It's easy to see that hiring someone can be expensive. For people who pursue a cost-effective experience, it is better to choose a high-pressure washer. How exactly do you choose a high-pressure household washer?
The power of the pressure washer is measured in pounds per square inch (PSI). There are two types of high-pressure washers: Gas-powered and electric. Gas-powered washers are used professionally in complex environments that are difficult to clean, such as factories, roads, etc. However, the high-pressure electric washer is commonly designed for home use.

What is the best electric pressure washer?
VEVOR's electric pressure washer is the best choice for beginners.
VEVOR's 2000 PSI electric pressure washer adopts a powerful 1500 W motor, generating 1.65 or 1.76 GPM of overwhelming water. Thoroughly removes old paint, oil, weeds, and other stubborn stains. Suitable for homes, RVs, decks, fences, driveways, cars, lawn equipment, etc. It automatically stops when the temperature reaches above 105℃. The 30-foot hose allows flexible cleaning in any large area. Only one person is needed to assemble and move it in minutes. Besides, the built-in TSS (Total Stop System) saves energy and extends the life of the pressure washer. Do not use it for more than 3 hours at a time.
If the surface of your house is wood, stucco, or aluminum, we suggest you clean it with a pressure washer that generates 1200 to 1500 PSI of pressure; if the surface is brick, stone, or vinyl, one of 2500 to 3000 PSI is recommended. Go to
VEVOR.com
and find the one for you.
Tip 3:
Clean in a proper place and protect things that may be damaged.
Some skills are required due to the complicated operations of the high-pressure cleaner. Spraying too vigorously may harm the siding or paint, so pressure washing is not recommended for sidings made of crater plaster or fiber cement. Remember to close doors and windows before cleaning. If surfaces are prone to leaks, tape them or cover them with a plastic cloth. Move or protect the flowerpots and other easily damaged objects.
Tip 4:
Install and debug the pressure washer before using it.
Choose the correct pressure washer and proper nozzles after establishing an approriate electrical and water source. VEVOR offers 5 nozzles with 0°, 15°, 25°, 40° and a turbo nozzle for different working environments. A 500 ml self-spraying detergent bottle is provided for deep cleaning tasks. The 15° nozzle is suitable for harder surfaces and higher pressure washers. The 25° or 30° nozzle is better for softer surfaces and lower pressure washers. After installing the nozzles, you should debug the pressure washer 1-2 meters away from the cleaning area. Please keep a fan-shaped spray area, and adjust the spray distance and angle according to the actual situation.
Tip 5:
Here are some precautions and steps for your cleaning.
As with all DIY projects, pressure washing also requires attention to safety. Water will spray out of the washer under tremendous pressure, possibly cutting off some bricks, rocks, and wood. Hence you should wear goggles, heavy-duty boots, and protective gloves to avoid accidental injuries. Additionally, pay attention to water and electric safety before every cleaning.Turn off any outdoor outlets or tape them, and be cautious of overhead wires. Never use a ladder to clean because the backlash of the pressure washer will push you down.
Step 1: Prepare the water supply and the detergent, then wash from the bottom to the top.
Connect the water source to the machine through the hose, and prepare a bucket to mix the mold inhibitor with water simultaneously. Mix it in the ratio of one part bleach for every nine parts mold inhibitor, and pour the solution into the detergent bottle. Spray the detergent from the bottom to the top, then scrub the surface gently with a brush.
Step 2: Practice using the pressure washer at a lower position.
Use two hands to move left and right to guide the high-pressure gun at a level with a little downward angle. When you feel the water pressure, you can walk to clean slowly. Try to wash around windows, but don't stay too long in one place, or you may damage the surface.
Step 3: Use the pressure washer to clean the surface from the bottom to up.
After confirming the proper washing distance, you can start pressure washing from the top. Spray the eaves and gutters first, and then move and clean downwards slowly. To prevent water from penetrating the house wall, form a 45-degree downward-sloping angle with both hands as far as possible. (Be careful not to be knocked down by the water backlash.)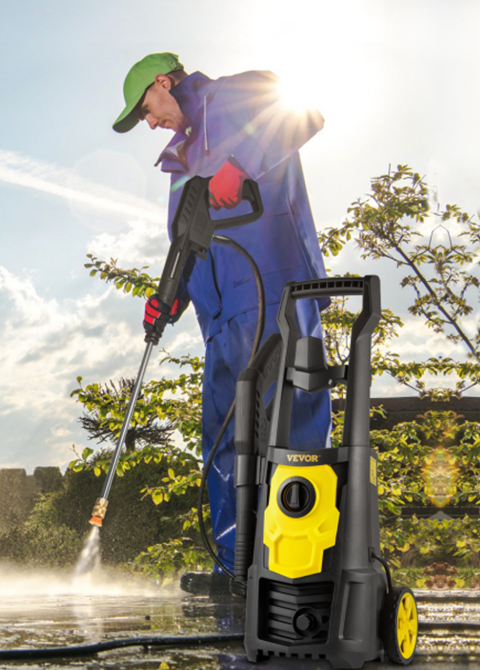 Tip 6:
After cleaning, pack up your tools and let the house dry naturally.
After you've finished cleaning according to the steps above, throw away the tape and the plastic cover. Pack up your tools after the surface is naturally dry! If you plan to paint the house, wait at least 2 days for the exterior surface to dry thoroughly. If not, wait for a clean and shiny "new" home.

The electric high-pressure washer is perfect for cleaning decks, sidewalks, and even washing cars. Get cleaning jobs done and release your stress through this fun process.
Are you ready to use a pressure washer?