SDSDSLED75YCQ6B2YV1
VEVOR Christmas Tree, 7.5ft Prelit Artificial Xmas Tree, Full Holiday Decor Tree with 550 Multi-Color LED Lights, 1346 Branch Tips, Metal Base for Home Party Office Decoration
Multi-color LED
Multi-color LED

White LED Light
About this item
Liven Up Your Holidays: Bring the holiday cheer with our 7.5 x 4.4 ft green Christmas tree, complete with a 21.9-inch base diameter. It's designed with sturdy branches to hold all your favorite decorations, making it a perfect canvas for your festive creativity.
Lifelike and Full Appearance: With 1346 branch tips, our prelit Christmas tree boasts a lush and lifelike appearance. The pre-attached hinged branches, connecting tree trunk and sturdy metal base make setup a breeze. Simply fluff up and pull the tips to shape the tree, and you'll have a realistic Christmas tree in no time.
Vibrant LED Lights: Enjoy 550 multicolored LED lights already strung on the tree, saving you precious decorating time. Designed with parallel lighting, even if one LED light goes out, the rest will stay illuminated, lighting up your wonderful Christmas night! UL certified for safety and peace of mind.
Built to Last: Crafted with durable and reusable metal hinged branches and quality flame-retardant PVC tips, our prelit artificial Christmas tree is made to withstand the test of time. The sturdy metal base ensures your tree stands securely, promising joy for your Christmas celebrations year after year.
Create Memorable Moments: Share the joy of the season with your loved ones. Select VEVOR Xmas tree and create lasting memories together. Whether it graces your house or garden, let it shine all night long, adding a magical touch to your festive celebrations.
Frequently Bought Together
People Who Bought This Item Also Bought
Brighten Your Christmas Night and Unleash Festive Joy
Let VEVOR Christmas Trees be the centerpiece of your holiday celebrations, filling home with warmth, joy, and the spirit of the season. 1346 branch tips make for lush and lifelike appearance, and 550 multicolored LED lights creates an enchanting atmosphere for you and your loved ones to cherish.
Experience the magic of the season with our 7.5ft prelit artificial Christmas tree boasting a fluffy branch design and 1346 tips. Its lush and full branches create a natural appearance that brings your Christmas tree to life.
Delight in the convenience of 550 multicolored LED lights pre-strung on the tree, saving you valuable time during decorating. Designed with parallel lighting, even if one bulb goes out, the others will remain lit, creating a magical holiday atmosphere.
Our holiday Christmas tree is designed for hassle-free assembly, making your holiday preparations a breeze. In just 3 simple steps, you can have the tree set up, fluff and shape the branches, giving your tree a lush and natural appearance.
This tree is crafted with reusable metal hinged branches, along with quality flame-retardant PVC tips, ensuring it remains durable over time. Supported by a sturdy metal base, it stands securely, bringing joy to your Christmas celebrations year after year.
Specification
Item Model Number

SX-2886-7.5
Voltage

AC 110-120V, 60Hz
Product Size

4.4 x 7.5 ft / 1.33 x 2.29 m
Net Weight

25.57 lbs / 11.6 kg
Number of Tips

1346
Number of Lights

550
LED Type

Multi-color LED Lights
Main Materials

PVC, Iron
Questions and Answers
Typical questions asked about products: Is the product durable? ...
Customer Reviews
2 Review(s)
RaduAlex
Beautiful Christmas Tree
Beautiful Christmas Tree 7.5ft Fast delivery, easy to ensemble and very easy to decorate. Well balanced distribution of LED lights. Love the spaces between branches and their flexibility permitting to stage decorations in a pleasant way. Price was great compared with similar products available in store and online. Free shipping added value to the purchase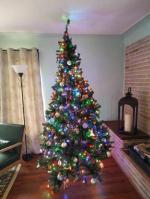 Tisse_amazon
Yes, we put the tree up...
These tree is not as heavy as I thought it would be, but it looks beautiful. My Mom decided to put the tree up months too early....lol. This is a standard tree and just as advertised. Fair quality and easy to assemble. I think it will need a skirt as the stand is fairly basic.
People Who Viewed This Item Also Viewed